Ho Ho Ho! Christmas is just around the corner. As people's hearts are warming up for the festive season, decoration pieces reflecting the jovial mood are about to crop up everywhere. But, where did the decoration tradition that we all look forward to originate from?
Some historians have it that the Romans were the first to make Christmas decorations. Initially, they celebrated Saturnalia which was a pagan festival that took place in mid-December. During those celebrations, the Romans used wreaths and trees decorated with lights. They also presented gifts and delicious eggnog during the celebrations.
Others believe that the Christmas decoration tradition began in Germany. During winter, leaves fall off leaving trees looking bare and lifeless. To symbolize hope and promise of the soon-to-come spring, the Germans used to hang nuts and different kinds of fruits. 
However, it was not until 1605 that the first tree was kept indoors and beautifully designed with decoration pieces like nuts, fruits, paper roses, and candles among others. Although real fruits and nuts attracted fruit flies and other pests, the idea appealed to many and spread all over Germany.
Afterward, the tradition spread to America in the 1800s through German immigrants. Once there, Christmas decorations continued to evolve into the trendy designs we see today.
What is the most popular holiday decoration?
Huge Christmas trees bearing decoration pieces and long or big shiny garlands adorn various streets of major cities around the world during Christmas festivities. Smaller versions of real or artificial Christmas trees and garlands are used to decorate homes, offices, and business places during this holiday. Some of the most popular Christmas decorations include:
Christmas trees
In the olden days, Christmas trees used to be real evergreen conifers such as spruce, pine, or fir. Although some people still use the real ones, there is a large variety of artificial Christmas trees that are available in stores and online. The trees usually have branches that are accessorized with small decoration pieces such as lights, ornaments, and tinsel.
Christmas garlands
Garlands are usually made from greenery like holly or any other type of evergreen branches and flowers. Just like Christmas trees, artificial Christmas garlands are found in stores and online. Garlands are used to decorate Christmas trees together with other decoration pieces. However, they can be used as stand-alone decorations for walls, ceilings, and doors.
Christmas wreaths
A wreath is a circular garland that is traditionally made from evergreen branches. Wreaths symbolize strength and endurance. A red ribbon is creatively tied to represent the blood of Christ. These decoration pieces are used to adorn homes and churches during the Christmas season.
7 Decoration pieces that will prep your home for the holidays
A festive mood feels good, right? Creatively choosing your home décor during the Christmas holiday will help to heighten the mood for the celebration.
Festive and cheerful décor is ideal for boosting mood and igniting excitement. On the other hand, neutral and pleasant décor will exude a sense of calmness that will help you to focus and get into the Christmas spirit.
Whenever you hear "Christmas is in the air", there is always a Christmas tree in close proximity. Bring out the authentic feel of the Christmas season by decorating your home with a Christmas tree creatively adorned with Christmas-themed ornamental pieces.
Your family and friends will be delighted by the all-lit-up tree in your home which is a Christmas symbol that signifies hope and happiness.
You can place it indoors or outdoors if you have enough space. Wherever you place your glowing Christmas tree be sure that it will not only be your guest's center of interest but will also enhance and take the celebratory mood in your house a notch higher.
One of the main reasons you should put up Christmas lights is for the aesthetic appeal.
In some countries, the regular signages on streets are wrapped with colorful blinking lights.
In homes, they either wrap around the Christmas tree or snail across different home décor to brighten them up.
Just like the stars led the three wise men to Jesus, the presence of these colorful blinking lights often points those in need to where they have to go. It embodies the Christmas message of sharing and caring.
Whether you are in Africa, of African origin, or simply in love with the African continent and its culture, you should have an African Christmas theme in your home this season.
Colored Santa and angel figurines in combination with other unique ornaments will definitely bring you closer home or make you feel so.
Africa is known for its culture which depicts warmth and great hospitality.
With these unique African-themed wooden Christmas ornaments adorning your Christmas home décor, you will feel and enjoy your Christmas the African way, albeit far away.
Christmas garlands are beautiful, smell good, and have worked their way into the Christmas holiday tradition.
To make it more appealing, decorate your garlands with lights, ornaments, bows, and other decorative pieces of your choice.
Hang your embellished garlands on your doorways, fireplace, staircase, and walls.
Sit back and watch how they add some holiday cheer to your home and get your family and friends into the Christmas spirit.
Christmas wreaths are an old traditional Christmas decoration passed from generation to generation. These decorative pieces are usually hung on the doors or walls. Did you know that Christmas wreaths represent the circle of life and the continuous cycle of the seasons?
Also, they are a symbol of hope and goodwill. As you hang a few on your walls and doors let them remind you that Christmas is a time for giving and sharing. You can also brighten them up with blinking lights.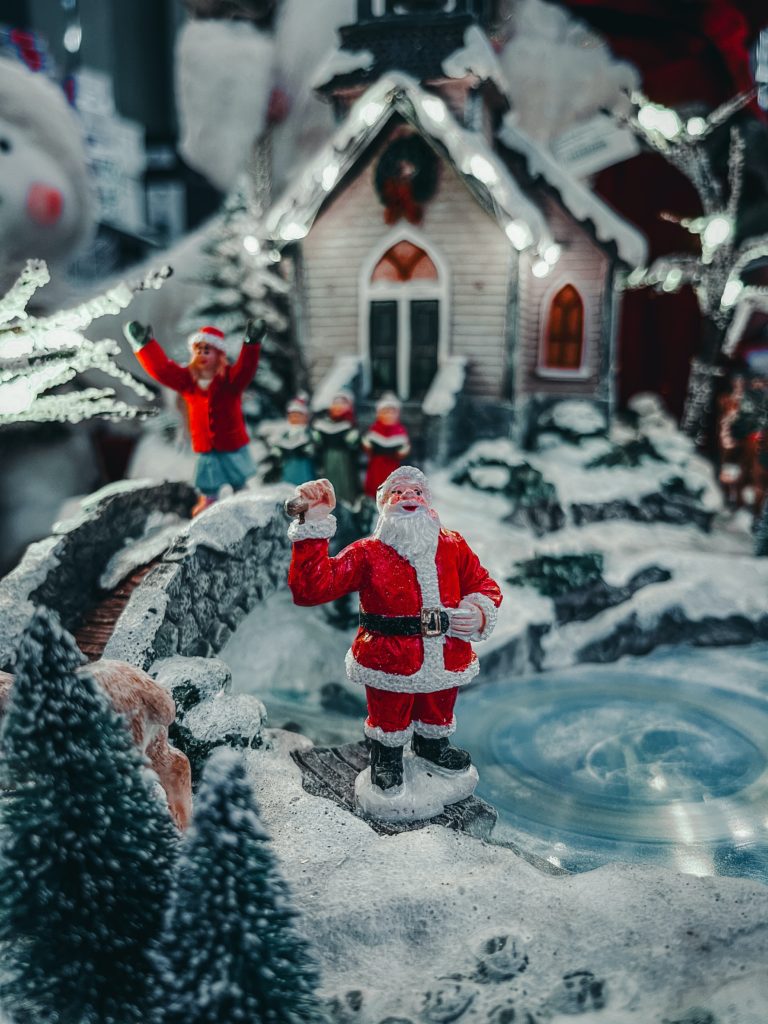 A Christmas celebration without Santa's iconic throaty laughter and jolly mood is incomplete.
To symbolize the love, hope, and joy exuded by Santa during this holiday season, have his figurine hang freely on your Christmas tree.
You can also spread the joy of the Christmas season by gifting Santa figurines to your loved ones and creating cherished moments together.
Are you looking forward to creating a festive atmosphere in your home that will enchant your family and friends?
Then, embellish your walls with Christmas-themed wall décor which is a superb way of expressing and spreading your holiday spirit.
These decoration pieces will not only bring life to your monotonous walls but they will also make the rooms feel more cheerful and welcoming.
Give your guests a good reason to stare at your walls while you share your favorite meals during this festive season.
Conclusion
Christmas decoration pieces are ideal for accentuating your holiday décor or simply adding a festive touch to your home. Adding a few key pieces will make your home feel more welcoming and enhance your mood in a positive way.
When choosing your Christmas embellishments, be sure to consider the overall theme and style of your home so that the pieces you select complement your décor.
With a little bit of planning and thought, you can use the decorations to create a holiday atmosphere that your family and friends will enjoy and cherish for a long time.
Join African Vibes Community for positive African news, interesting tips, and discussions